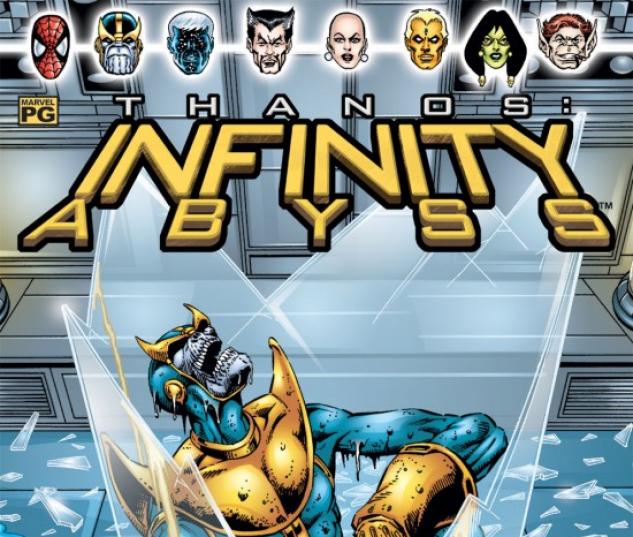 Infinity Abyss marks Jim Starlin's return to the Infinity series after a nine year hiatus since Infinity Crusade. In this story, five clones of Thanos called the Thanosi are trying to destroy the universe. The Thanosi plan to prevent Atleza, the Anchor of the Universe, from selecting his successor and thus causing the world to be absorbed by nothingness. The only ones left to take them down are Spider-Man, Dr. Strange, Thanos, Adam Warlock, and Genis-Vell.
The Infinity Abyss is a six issue miniseries but it really should not have been.The plot is very basic with these evil clones wanting to destroy the universe and the heroes stop them. There just isn't enough story here to keep my interest and while I do like the banter from Genis and Spider-Man, the characters don't have much going on. Dr. Strange gets a heavy focus here as he takes down a mind-controlled Moondragon (which is something repeated from Infinity Crusade) and one of the Thanosi. A whole lot of new characters are introduced here but none of them have any depth. The villains just want to destroy and only have a little personality because they're based on other characters like Gladiator or Professor X. The final battle with Omega is hyped up throughout but when he's defeated I couldn't actually believe it happened because the way he was stopped was so underwhelming.
Some positives here would have to be the art. Starlin is doing double duty as writer and artist. There are some weird visuals like in the Doctor Strange/Moondragon fight that I liked and just the art overall has good moments showing off the Marvel Universe. While I don't like their characters, the Thanosi have cool designs that mixes the Thanos look with other Marvel heroes into a unique appearance. I also really like the ending here with Gamora and Warlock finally getting together.
I wanted to give this one a pass as it's just forgettable but I'm dying to come up with something to say because it's very boring. Something this boring should never be read.
Writer: Jim Starlin
Artist: Jim Starlin
Rating: Rubbish