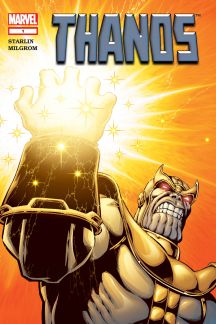 In 2003, Thanos starred in his first ever solo series written and drawn by his creator, Jim Starlin. After the first six issue arc the creative team of Keith Giffen and Ron Lim took over the title for the last six issues. The story takes place a while after the events of The End (Which is non-canon so I don't really understand why it's mentioned in this canon story.) Thanos decides to atone for his previous actions and helps out a small planet a clone of his had attacked a while ago. What starts as a simple mission to help becomes something bigger as Galactus becomes involved and something else that may be even bigger than him. After this arc Thanos joins up with some space cops at the edge of the universe to stop the Maker, a now female Beyonder.
So for the first time Thanos stars in an ongoing comic and now he's become an anti-hero. While he does kill some people he tries to justify it every time and here he is truly just trying to help and make amends. This is a big change for the character as he's spent a long time hanging around the edge of being an anti-hero. The first arc of this series "Hunger" is pretty good as Thanos fights against an unknown entity trying to invade this universe. It starts a little slow as Starlin sets up what Thanos is doing now and we get a recap of what has been happening in the past comics. It starts to pick up when Galactus shows up and there's good fight scenes with him. The true villain is actually a new character and I wish it had showed up again as it was a little more unique than the usual invading alien. Starlin does the art for his issues and as always it's very well done. My only other complaint with this arc is that characters just kind of pop up when they're needed and then just disappear. Moondragon shows up for one issue and then is just thrown out once she's served her purpose.
The second arc "Samaritan" doesn't hold up as well as "Hunger." There's a lot going on in Samaritan as we are introduced to this prison called the Kyln and there's a bunch of new characters being introduced. The problem though is that these characters seem to have a lot of background and history but we don't really get told about them. The Omega Core characters are just some generic cops who banter a lot, Mynx is a generic cat like villain, and Skreet is an annoying pixie girl who Thanos lets join him for some reason. The other villains, the Maker and the Fallen One are just too confusing and that makes them uninteresting to me. The best part of this arc is the team of Gladiator and Star-Lord, making his first appearance here. They have an actually good banter and there's some mystery as we hear about something awful that Peter Quill did that makes him give up the Star-Lord name.
The main focus of the comic though is Thanos and here Thanos is still written pretty well. Both writers keep a consistent character with him as he tries to atone for his sins but he still has some bad tendencies. Thanos, especially in the Hunger arc, shows off his intelligence and planning against a stronger foe while also being dismissive of people below him like Pip and Moondragon. I still wish the character had just died off in The End but Hunger wasn't bad and I'd definitely recommend it for fans of Thanos. However, Samaritan is a pretty weak arc and since it's half the story this comic is going to be dead in the middle in terms of rating.
Writers: Jim Starlin, Keith Giffen
Artists: Jim Starlin, Ron Lim
Rating: Buy for a Bargain