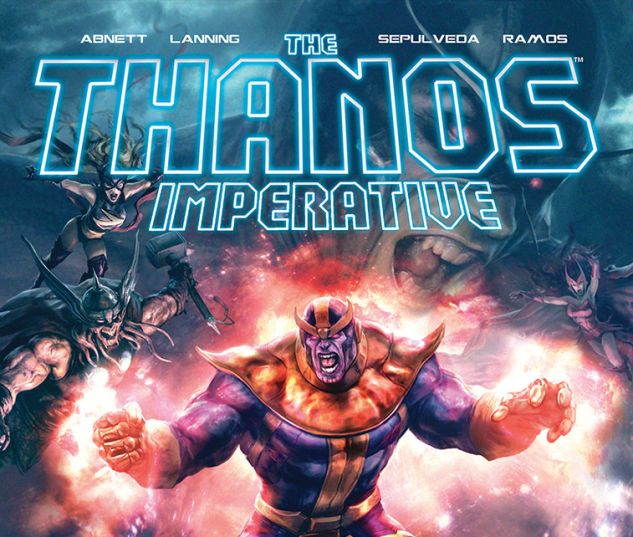 The Thanos Imperative is a six issue miniseries that includes two one-shot comics, one for a prologue and another for an epilogue. This series stars the Guardians of the Galaxy and Thanos as they try to stop an invasion from another reality where death does not exist. The ruler of this "Cancerverse" is Lord Mar-Vell who leads the Revengers, a Lovecraft inspired team of Avengers. A lot of the biggest cosmic characters are in this event as they all try to survive against the invading forces.
Thanos Imperative is the last big event by the team of Abnett and Lanning who have created the biggest cosmic events in the modern age of Marvel from Annihilation to Realm of Kings. Having only read Annihilation this comic does a good job keeping you up with previous events as the Ignition one-shot provides some context while advancing the story by introducing our villain. I really was surprised to see Lord Mar-Vell as the villain and the explanation for how he turned into one in his universe is very interesting as it's unexpected. Unfortunately he falls into the generic side of villains as he does cliché things like killing his own subordinates for no good reason.
This story has a whole lot of characters and while that can be a strength as they're obviously trying to tell this space epic, it can bog down things. The Inhumans and their drama with some other ruler is very irrelevant and just seems petty for them to argue at this time when everything is in danger. My favorite character in the comic was Cosmo and that's because he's a funny space dog who actually trash talks Thanos and does a lot to help the team. Nova and Star-Lord are the two main heroes here as they try and escort Thanos into the Cancerverse. They're a good team and they have similar personalities that gives them good lines and jokes. The rest of the Guardians and the Cosmic beings don't stand out much as they all play backseat to Thanos himself.
In this comic, for the first time, Thanos started to annoy me. There's a lot of scenes of him and Drax just fighting and scenes of characters saying how great Thanos is. Having read all these comics about him, his scheming has just gotten old. Starlin himself criticized the constant deaths and rebirths of Marvel characters but here it just keeps happening with Thanos. There's a lot of death in this comic and all of it now has been reversed so it's hard to buy into the stakes of the event.
The Thanos Imperative has a few negatives but the positives outweigh them. The art is very good, the characters who are important are cool and have funny lines, the basic idea of the Cancerverse is something I've never seen before, and the Lovecraft inspired heroes are visually interesting villains.
Writers: Dan Abnett and Andy Lanning
Artists: Miguel Sepulveda and Brad Walker
Rating: Full Price